OUR GIANT American Flag 20FT X 38FT SEWN NYLON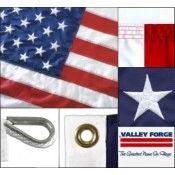 OUR GIANT American Flag 20FT X 38FT SEWN NYLON
These finely made US flags are a popular choice because of their very reasonable price, excellent color fastness, and outdoor durability. This is considered the "all weather US flag."
These flags have sewn stripes and appliqued stars on an Old Glory field. They are constructed with heavy canvas heading material, 6 rows of stitching, roped heading, 2 metal thimbles, and one grommet centered between the thimbles. This flag is suitable for flagpoles 100ft and higher. These flags are 100% American made!

Attention: If you live in a windy area and fly the flag 24/7, you should also consider our Super Tough spun Polyester American Flags. This fabric is even more durable, but is heavier and requires more wind to "fly". We suggest the nylon for most situations, but the polyester is better for areas that are very windy.
Top Header
A top header is needed for displaying the flag in a horizontal position. A tough white canvas header is added across the top of the flag that has heavy-duty grommets every 4 feet. Perfect for displaying indoors or outdoors.
Reviews