Our Best Vaue 3'X5' Flag and Pole Kit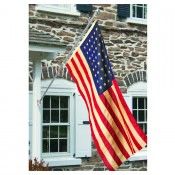 Our Best Vaue 3'X5' Flag and Pole Kit
This American Flag and Pole Kit comes with everything you need...3'x5' Nylon Flag, 28 gauge steel pole, mounting bracket. We even include the anchors and screws.
You can order either a powder coated bronze, black or silver (stainless steel) pole. The Made in America Flag has sewn stripes, embroidered stars, four stitches in the foot. heavy canvas and brass grommets make this an excellent buy. This kit is designed to be Our Favorite American Made Value.
The tea tint in this photo is not included. We will deliver your flag in bright red white and blue!

Reviews