Florida 3'x5' Indoor Flag and PoleKit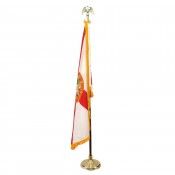 Florida 3'x5' Indoor Flag and PoleKit
Comes with a 3ft x 5ft fringed Florida flag
Your choice of a 7ft or 8ft varnished oak pole
Comes complete with a gold cord & tassel
Choose from a variety of pole toppers to finish it off
Flag is US made, pole & accessories are made in China
We are developing a Made in U.S.A. Flag pole kit supplier. watch for our announcement.

Reviews