American Indoor Flag and Pole Kit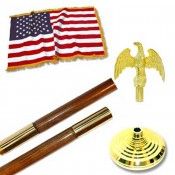 American Indoor Flag and Pole Kit
An Absolute Beauty is this 8ft U.S. indoor flag set comes with a 3ft x 5ft gold fringed nylon flag that has sewn stripes and embroidered stars. It also comes with an oak finish 8ft 2 piece pole that has a brass screw joint and a weighted stand for easy display. Also included in this set is a 7in plastic eagle for the top and gold tassels, making this a complete set.

We also have this kit in 7ft and 9ft. at equally modest prices.
* These are one the Best Made in the USA kits. Starting at great internet prices. We want you to try us...at $149.00!
Reviews